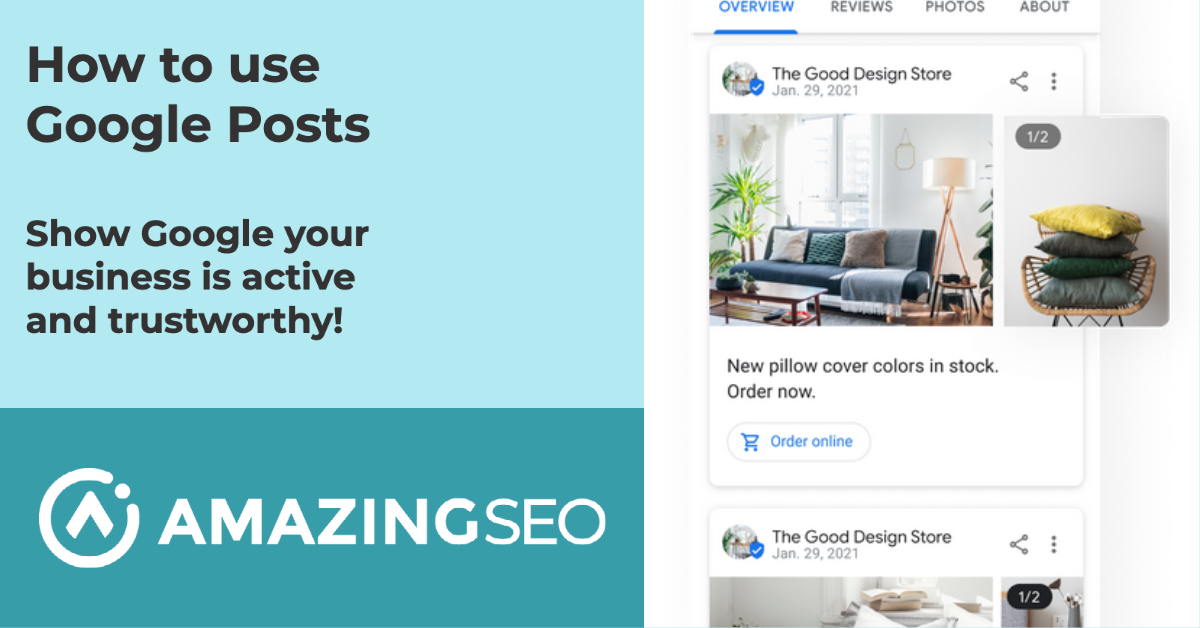 Have you heard of Google Posts? This feature within Google Business Profile (formerly known as Google My Business) is an effective and easy way to improve your search rankings and get more eyes on your local business.
But what exactly are Google Posts, why are they so helpful and how can you create your own with an optimized strategy? We've got all the answers right here.
What Are Google Posts?
A Google Business Profile Post is a short snippet of information, similar to a social media post. They allow businesses to share important messages with anyone who finds them via Google search or Maps. Google Posts are created in the Google Business Profile dashboard. You can post a picture, link, date range (for events), and clickable call to action (CTA) button.
Your Google post then appears when a user searches for keywords associated with your brand. Up to 10 posts can be displayed and scrolled through within the Knowledge panel for your business on Google Maps.
Why Use Google Posts?
Now you know what Google Posts are and where you can find them. But let's get into more detail about exactly how Google Posts can benefit your business and why you should consider using them.
More people find your business
Google processes over 8.5 billion searches every day. There's a large audience out there who can casually find your business on Google while they're searching to fulfill a need. Having a strong online presence on the most visited website in the world involves capitalizing on tools like Google Posts.
Great for small businesses
Google Posts helps small businesses promote events and service or product offerings people might not otherwise know about. It also enables small businesses to connect with their customers directly through the CTA button functionality.
Content is easily seen
Users often only scroll content on social media or blogs, where there's a barrage of information fighting for their attention. But many people keep Google search right at their fingertips, meaning your Google post could be just a click away for the right customer.
Included in SEO keyword searches
Google posts are indexed and can show up independently in search results. This means, just like on your website, on Google Posts you can use clever SEO-driven keywords to reach your target audience. And when the no. 1 listing on Google gets 32% of all clicks, you'll want all the help you can get to reach it for your chosen SEO search terms.
Help build Google's trust
When you share new, relevant and useful information about your business through Google Posts, it tells Google that your business is trustworthy and legit. Over time, this increases your ranking. And the higher your ranking, the better chance you have to appear further up in the search results.
How to Use Google Posts

Step 1 – Create a Google Business Profile account
To create posts in Google Posts, you'll first need that Google Business Profile account. This is a free listing you can sign up for through Google. It allows you to be found accurately on Google Maps and add other useful business information like contact details.
If you don't already have a Business Profile account, you can create it using your company's Google account. You may find there's an existing listing created by customers who have checked in at your premises or left a review. If so, submit a request to become the owner of the listing. Otherwise, fill in your business details.
Step 2 – Wait for the mail
Google will send a postcard in the mail to verify your business address is legitimate and belongs to you. You should receive the postcard within two weeks of submitting your request.
Step 3 – Access Posts in Google Business Profile
Once you're verified and logged into your Business Profile, click on Business Listings. You should see a "Posts" button to the left of the dashboard, below the navigation bar.
Step 4 – Create Your First Post
Click "Add Post" to start your first post. Add an image to pull attention to the post. You can then write 100-300 words and choose whether to make your post an event. Add a CTA button from a predetermined selection of choices — "Reserve", "Sign up", "Buy" and "Get offer."
You can also schedule Google Posts in advance or save them as drafts and publish them later.
What Types of Content Are Best For Google Posts?
You can make all kinds of announcements about your local business on Google Posts. Some great examples are:
Spotlighting new services or products
Announcing menu or product changes
Sharing company news updates
Changes in opening hours or policies
Advertising upcoming events
Images of a service or product
Limited-time discounts or special offers
Promoting sign-ups and engagement
Although the potential for using Google Posts is broad, there are a few guidelines for what not to include in a post too. See Google's tips here.
How Often Should You Use Google Posts?
Regular posts stay online for seven days after you've made them. Event posts are different, as they'll disappear after the date you set — i.e. once your event has ended. This means they can stay online for over seven days and drive traffic to your business for a longer period of time.
As the life of most posts is so short, you should try to consistently create at least one new post every week.
How to Optimize Your Google Post
Each Google post you create should work hard for your business. This means putting in the work to make them high-quality, enticing, and clickable. Here are some tips:
Create clear and actionable headlines
Use eye-catching images
Publish different types of post
Use your brand's voice
Include CTAs on every post
Post at least once a week, preferably more
Using Google Posts For Your Business
Harnessing a free business tool that Google provides seems like a no-brainer. But what's great about Google Posts is they're a really effective marketing tool. Follow our tips for creating a Google Business Profile account and making posts. When implemented correctly, you should soon start to see a rise in your traffic and engagement from Google Posts.