Why Small Businesses Must use a Content Calendar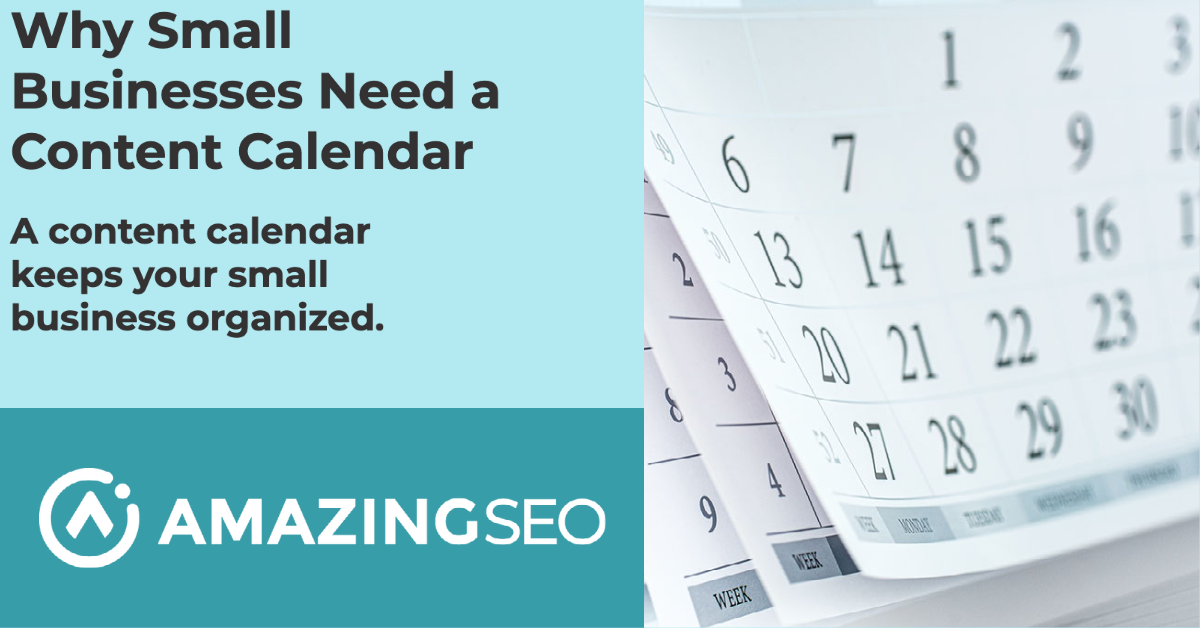 Why Small Businesses Must Use a Content Calendar
Are you a small or local business seeking to expand your digital presence? Content marketing is a vital strategy for businesses to increase online brand awareness and authority within their space. In fact, 67% of marketers report that content marketing generates leads/demand. But it can be a challenge for small business owners and marketing teams to regularly post enticing content that draws potential customers to purchase.
A content marketing strategy must be organized to be successful, so a content calendar is an excellent tool to include in your marketing toolbox.
What is a content calendar, and why do small businesses need it? Let's take a look at the answer to those questions.
What Is a Content Calendar?
A content calendar is a written schedule of what social media content you'll share and when and where you'll publish it. It includes many items, such as:
Future content
Planned promotional activity
Status updates
Updates to current content
Collaborations
Content includes so many moving pieces — posts, videos, blogs, pictures, ads, and stories. You have to publish various types of content regularly to get your brand on customers' minds and then stay there.
It can be a lot for a small business to handle without a concrete process, so it's really important to stay organized and plan ahead. That's why content calendars are vital for businesses that are seeking to grow their online presence.
6 Reasons Small Businesses Must Use a Content Calendar
Here are our top six reasons why small businesses must use a content calendar.
1. Keeps You Organized
Every marketing strategy must be well-planned, organized, and strategic to be successful. The best marketing plans include strategically posted content that aligns with your business goals.
For example, are you trying to build brand awareness or increase organic traffic? Do you have a group of hot leads who just need that last little nudge to buy your product or service? Your strategy needs to be organized and tailored to meet these specific objectives.
A content calendar helps you organize your future content to move your customers down your marketing funnel to meet your end goal. Everything is gathered in one space and is easily accessible for editing. This keeps you organized, which greatly increases your chance of campaign success.
2. Saves Time and Effort
It's no secret that planning and coming up with regular high-quality content is one of the hardest parts of content marketing.
For a content marketing strategy to be successful, content has to be varied, relevant to customers and your brand, engaging, and persuasive. It takes a lot of time and effort to keep thinking about what content you should make.
A content calendar saves that time and effort by automating the content scheduling and publishing process. You no longer have to think about what content to make every day — it's already on the calendar, so all you have to do is sit back while it publishes it.
3. Makes Planning Ahead Easy
You've probably heard Benjamin Franklin's saying, "By failing to prepare, you are preparing to fail." That quote couldn't be truer when it comes to content creation and publishing.
A content calendar makes it easy for you to brainstorm and schedule content ideas well in advance before you publish them. You can also plan out your marketing budget so you know exactly how much you'll spend and what you'll spend it on.
This is especially useful for seasonal events and promotions. You don't have to stress yourself and your marketing team out by scrambling to plan a few weeks ahead of time. You can hold monthly and quarterly meetings with your team to formulate your marketing plan months in advance. Then, you can add your planned content to your content calendar.
This ensures your content marketing strategy is synchronized and airtight and gives you enough time to make adjustments in advance if needed. You can also see any gaps in your schedule beforehand, so you don't have to waste time scrambling to think of content at the last minute.
4. Streamlines Collaboration
Content marketing collaboration often requires you to use different applications to piecemeal a cohesive plan together. Many programs only allow admin or creator access, which limits what your team or partners can do.
Content calendars put all your content-related information in a centralized location, keeping everyone on your team in the loop. You don't have to worry about employees performing the same tasks or posting content at the wrong time. Shared content calendars are easily accessible to everyone on the team so everyone is on the same page.
You can even designate tasks to specific team members to keep your collaboration smooth, organized, and streamlined.
5. Improves Brand Consistency
Small businesses must have a consistent brand voice to define themselves and stand out among the competition. Customers should be able to recognize and memorize your brand just by looking at your content.
A content calendar can ensure that all your content is in line with your brand's image and persona. You can include a style guide — which can include fonts, colors, and photo styles — to make sure everything you make matches your brand identity.
6. Makes Outsourcing Content Easier
A content calendar is an invaluable tool if you outsource your content creation and publishing to a third party.
You can give your third-party members access to the content calendar, which allows them to easily create content and place it on the schedule. You can also easily review their work through the content calendar and communicate any adjustments needed.
Enjoy Successful Content Marketing With a Content Calendar
Content calendars are an excellent tool for small and local businesses to enhance their online presence. They make content planning, scheduling, and publishing simple and easy and increase your chances of campaign success.
Would your business benefit from a content calendar? Maybe you or your marketing team is overwhelmed trying to manage your content and marketing on your own.
Amazing SEO has the perfect solution for you. Our digital marketing services company provides multiple services such as SEO, content writing, social media management, and a content calendar to help businesses draw more leads. Contact us today to see how we can help you enhance your online presence and grow your business.
Citations:
CMI: Content marketing strategy, research. Content Marketing Institute. (n.d.). Retrieved November 14, 2022, from https://contentmarketinginstitute.com/