Why Your Business MUST Respond to Negative Online Reviews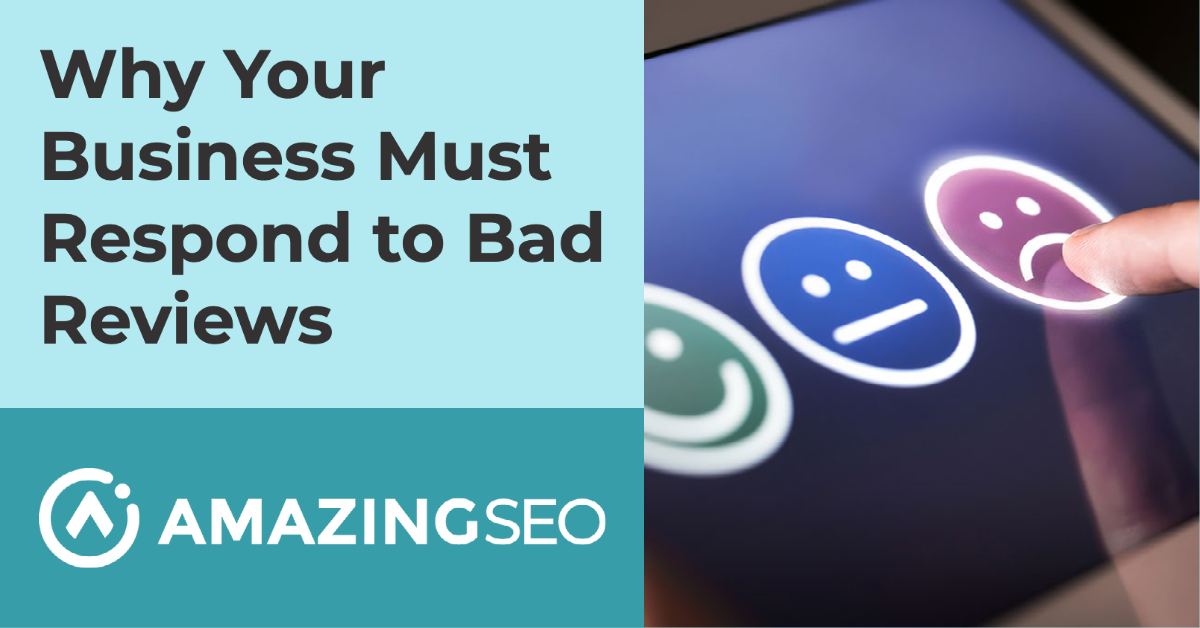 I get it, negative reviews are frustrating. As a business owner, you would prefer reviews be always based on fact and offer constructive criticism. But often, negative reviews are based on misinformation, a single poor anecdotal experience, personal bias, quality control, or factors just not within your control. 
And while it may be tempting to delete the review (if the platform allows it), report the bad review in hopes it gets removed, or even just ignore it, this approach to criticism can be detrimental to your business' image.  
It can be intimidating to respond to a negative review, concerned that it will make the situation worse, but often a carefully crafted response to a negative review will be met with a reasonable response, or simply ignored by the plaintiff. This is assuming you write your response with a genuine interest in protecting your business' online image while seeking to resolve the issue, not out of spite and anger. 
Here are the big reasons your business must respond to negative online reviews: 
Reason 1: Consumers read reviews before buying anything
Data shows 54.7% of online shoppers read at least 4 reviews before purchasing a product. When I'm purchasing a product, I read many more reviews than that. I also watch reviews on places like YouTube and make sure to check forums like Reddit to see what real people are saying. But its virtually guaranteed that most consumers will at least read the reviews on the product listing before adding the item to their cart. 
When you see a negative review on your product listing, it's a chance to control the narrative. You can craft a response to a complaint that prospective customers are all but guaranteed to read. 
A well-crafted response will acknowledge the poor customer experience of the plaintiff. Your response will explain the issue and how it might have occurred. If there is misinformation, your response should correct it. Finally, your response should offer to make the situation right, offering the client to contact you so that you can offer a credit or exchange. Your entire response should be professional, and sensitive to the reviewer's frustration. 
 A strong response will often convince shoppers that you genuinely care about your product and the customer experience. And if a consumer is on the fence because they are worried about how genuine your business is, your response could very well lead to a conversion. 
Reason 2: Negative Reviews Often Contain Misinformation
I've certainly read my fair share of negative reviews that contain slanderous or downright incorrect information. Perhaps the reviewer reviewed the wrong product or accuses your merchandise of being inauthentic because it didn't meat their expectations. The sad reality is that many bad reviews are based on misinformation, written by someone with a vendetta against a business. 
Responding to these reviews is your chance to show that your business is genuine and cares about providing an excellent product.  
For example, let's say you sell fragrance, and a reviewer accuses you of providing a fake bottle filled with water because it did not smell like what they expected. You can address this review by explaining how you acquire your product and offering to exchange it for a different product to make it right. A response like this shows you are willing to stand by your product, even if the customer may not be correct in their assumption. The result is you have addressed misinformation publicly, and increased confidence in your brand for prospective customers. If you were to not address this review, which is accusing your product of being fake, other prospective consumers might assume the false review is correct and your product is not genuine, resulting in lost sales. 
Reason 3: Your Business Appears Responsive and Accommodating
What better way to show excellent after sales service than by offering make a bad experience better? A lesser business that doesn't care about its customers would assume because it has already made a sale, it has maximized its profit are therefore shouldn't worry about what happens after the sale.  
But a business that responds to negative experience will be more likely to earn repeat business and attract new business. After all, 45% of consumers ay the are more likely to visit a business that responds to negative reviews. 
Reason 4: A Second Chance
62% of consumers are willing to give a second chance to a business that offers to solve a problem. This is a number you should look at with excitement because it means that mistakes are not fatal. Even if you have upset a customer in the past, responding well means they are likely to give your business a second chance. And if you can address their initial complains the second time around, chances are you will have made an even greater impression on them than if you got it right the first time because they know your business cares. 
This will also have a rippling effect leading to a greater number of leads because those customers that were taken care of the second time will likely become advocates of your business and recommend it to others. These advocates will also likely address any doubts other have by saying that if your business doesn't meet expectations initially, you will make it right. 
Reason 5: You Will Learn to Handle Criticism
I have read online reviews where a business owner clearly does not know how to handle criticism. They are often combative in their responses and do not admit to shortcomings.  
By responding regularly to negative reviews, you will learn to address criticism in a professional manner. Responding to criticism in a way that is well received is an art and one that must be practiced. As you continue to address negative reviews, your responses will become more refined, and you will know what to say in response to which situations. 
This skill can be used in multiple aspects of your business including online reviews, over the phone complains, employee complaints etc. 
Conclusion
While it can be uncomfortable to respond to a negative review, its an important habit for your business to develop. Responding to negative reviews puts your business in control of the narrative and allows you to address issues that could potentially turn away new business.  
At the end of the day, consumers only want a good product or service. Even if you don't provide that good product or service the first time, consumers will look at your business far more favorably if they eventually receive what they expected to pay for in the end.  
Amazing SEO includes Google Business management in our attractive $99/mo base SEO plan. We will create a strong Google Business page that will display your business in the best light and encourage users to leave reviews. Furthermore, we offer a review solicitation add-on where we will work directly with you to craft templates that will encourage your users to leave reviews, enhancing your business' exposure across the web.